Letter From Attorney General
Come as a Guest, Leave As Family
Please allow me to take this opportunity to personally welcome you to Calvary Chapel Snowflake. I am excited that you have taken the time to visit our website. On behalf of our entire church family, we want you to know that we are dedicated to meeting the needs of people wherever they are in life. Therefore, the simple purpose of our site is to introduce you to those areas of our ministry which are relevant to your life at this time.
​
You will find a variety of ministries here at Calvary, all developed to assist you in your quest for spiritual growth and wholeness. We have many ministries and activities for every age group from the youngest child to the "young at heart". We also have many ministry opportunities for those would like to exercise the gifts that God has bestowed upon them as well as those who have the heart to serve.
​
Our hope is that all people will feel loved and welcomed at Calvary. And once here, we pray that people will meet God and as a result of meeting God, give their lives to Jesus Christ. We want that for you. Come as you are. Check us out, but more importantly, seek the truth of God's Word that can only be known when one knows Jesus. We hope to see you soon! -Pastor Dave Marshall
sunday service is back on!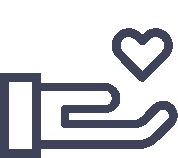 "Whoever is generous to the poor lends to the lord, and he will repay him for his deed."